Dry Eye Treatment
Your Dry Eye Treatment Action Plan
Looking at the symptoms and potential causes of your dry eyes will help our optometrists determine if you may be suffering from a treatable condition. 86% of Evaporative Dry Eye has been shown to be associated with Meibomian Gland Dysfunction. Our optometrists will run a number of tests to accurately diagnose your condition. This includes a quantitative assessment and digital record (with images and video) of your tear film break up time, meibomian gland quality, eye redness and lipid layer quality.
Below is an outline of how we assess your dry eye syndrome.
Slit lamp exam/biomicroscopy: This exam allows our optometrists to see areas at the surface of the eye at a microscopic level, including the eyelids, conjunctiva, iris, lens, sclera, and cornea. The retina and optic nerve can also be seen.
Evaluation of the tear film: by putting a drop of sodium fluorescein (a yellow dye) into the eyes which mixes with the tears to give a clearer indication of the quality of tear film.
Evaluation of tear production: strips of filter paper placed between the lower lid and eye are used to measure tear production.
Oculus Keratograph, our optometrists will assess and record the extent of your dry eyes including Meibography, Tear Film quantification & qualification, Lipid Layer assessment and Red Eye assessment.
If autoimmune disease is suspected as a cause, blood tests may be required. Your optometrist will refer you to your GP to action this.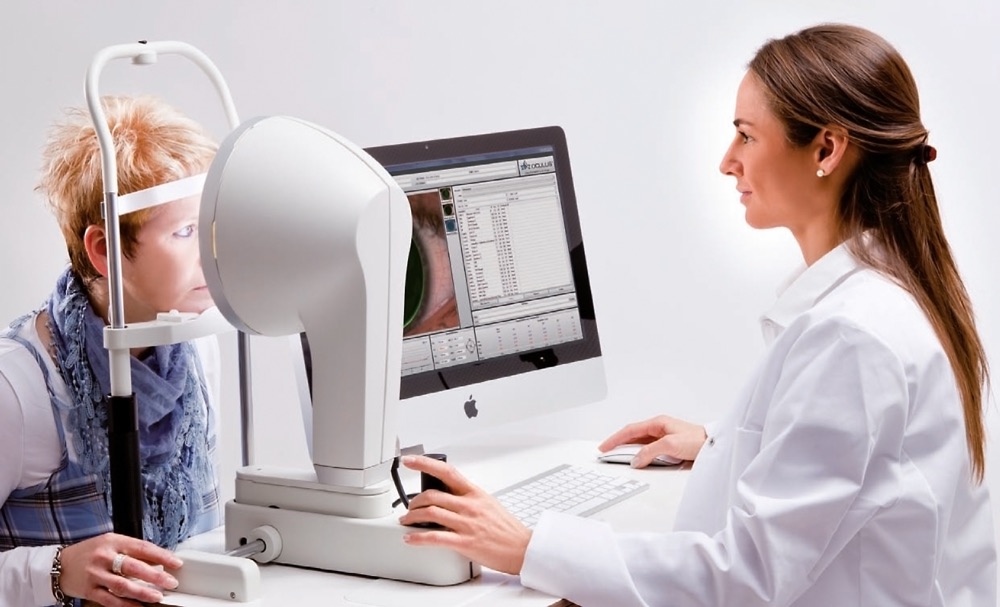 Different diseases require different treatment. That is why we create your Dry Eye Treatment Action Plan which is tailored to you. In some cases, the solution may be simple, while in others, you may require ongoing treatment. Treatments may be as straight-forward as blink training and warm-compress, it may include lifestyle changes, preventative measures, or a combination of treatments with the latest technology in dry eye treatment.
In any case, our goal is to always provide you with optimal care and relief from your symptoms of dry eyes and to give you the tools you need to manage your condition with the help of your healthcare professionals.
You may find this infographic helpful in visualising what some of the dry eye treatment options available are.
Click The Image Below To Download The Dry Eye Treatment Infographic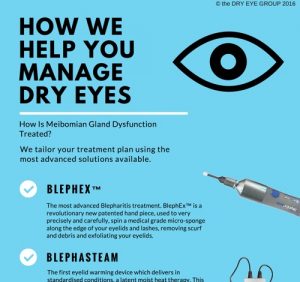 We aim to always be at the forefront of clinical and technological advancements in dry eye treatment options. Sometimes, your dry eyes symptoms can be improved with blink training, warm compress and omega-3 supplements alone. However, no two cases are the same, and further in-practice treatment may be required. Currently, three key pieces of technology are available to treat dry eye symptoms ranging from mild to severe: Blephasteam; IPL and Lipiflow.
These are outlined below and your optometrist may recommend these during your dry eye assessment.
LipiFlow® is a new procedure designed to treat the root cause of Evaporative Dry Eye (blocked Meibomian glands). Opening and clearing these blocked glands can allow them to resume natural production of lipids (oils) needed for a healthy tear film. Some treatments attempt to add more liquid to your tears, but without the complex natural oil, tears continue to evaporate faster than produced. At the heart of the LipiFlow® Thermal Pulsation System is the Activator (eyepiece). The Activator uses patented, precisely controlled heat applied to the inner eyelid with adaptive pressure encouraging your body to restart the natural production of lipids (oils) needed for healthy tears. Its single-use design and built-in sensors ensure a safe, sterile treatment. The treatment is performed in our optometry clinics — and, in some cases, on the same day as your evaluation.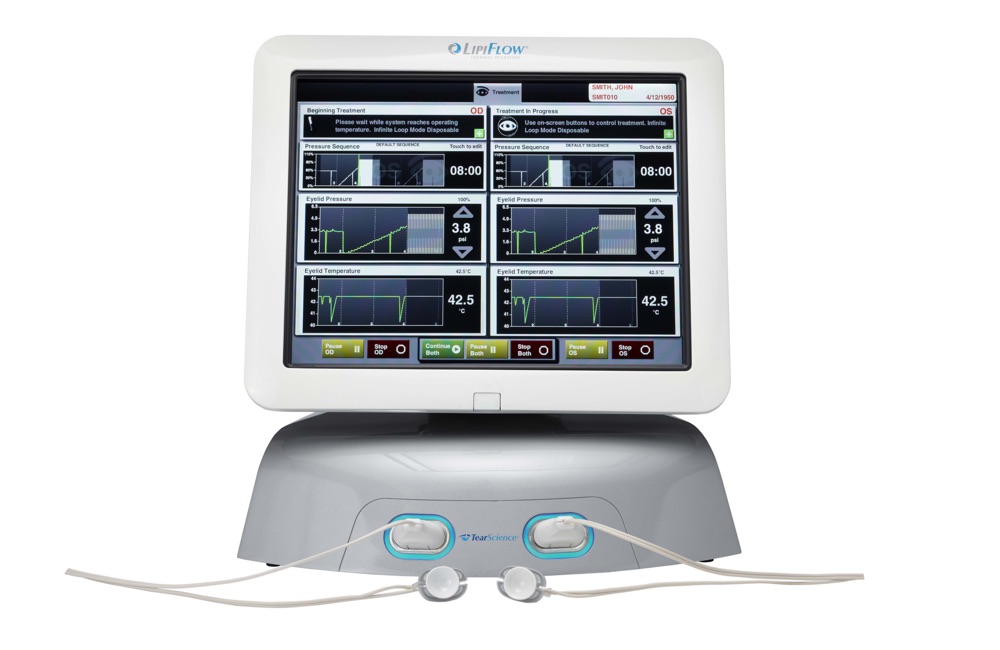 E-Eye is a device that generates a polychromatic pulsed light by producing perfectly calibrated and homogenously sequenced light pulses. The sculpted pulses are delivered under the shape of train pulses. The energy, spectrum and time period are precisely set to stimulate the Meibomian glands in order for them to return their normal function. Treatment with the E-Eye is simple and fast. Improvement in the Meibomian gland function can occur in just a few hours after treatment. Typically, 20% of patients have an excellent result after the first treatment, 50% show a vast improvement after session 2 (day15) and 86% of clients report a major change in their dry eye symptoms after treatment 3 (day 45). Maximal results are achieved with a 4th treatment on day 75. A final review (day 120) will ensure improvements to the function of the Meibomian glands is monitored.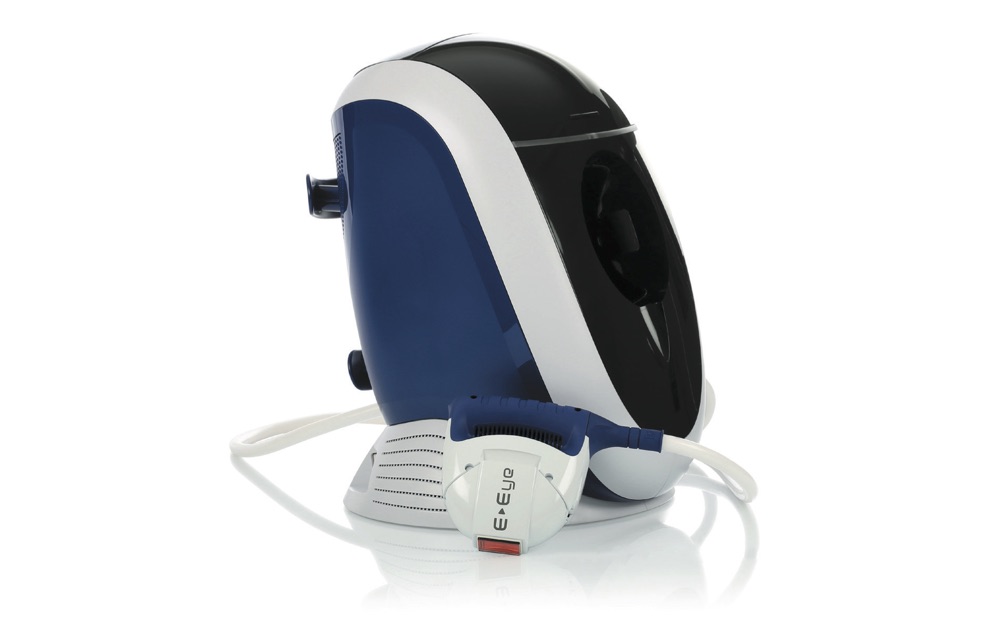 Blephasteam® delivers a latent moist heat therapy around the eyelids to unblock the Meibomian glands and thus to improve eyelids and ocular health. This has been shown to be far more beneficial than using a warm compress because Belphasteam® delivers a standardised therapy at a consistently safe temperature (which cannot be controlled with warm compress). After treatment with Blephasteam® your optometrist will express your glands to unblock the oils in order to allow them to flow optimally. This can take between 1 and 3 treatments (1 per month). Your optometrist will provide video of the procedure so you can view the extent of the blockage and the changes after treatment.
After your comprehensive dry eye assessment, your optometrist will provide you with an action plan to help you manage your symptoms. There are a number of things you can do at home to improve your condition which include eye drops, supplements, warm compress, tea-tree wipes, and blink training.
Management of dry eye syndrome will also include treatment with one or more dry eye technologies, depending on your symptoms and the cause of your condition. These include Blephex lid scrub, Gland Expression, Lipiflow and/or IPL as outlined above.
Contact Us For Your Dry Eye Assessment
Contact Us today to arrange your dry eye assessment or to talk to one of our friendly staff.
Contact Us